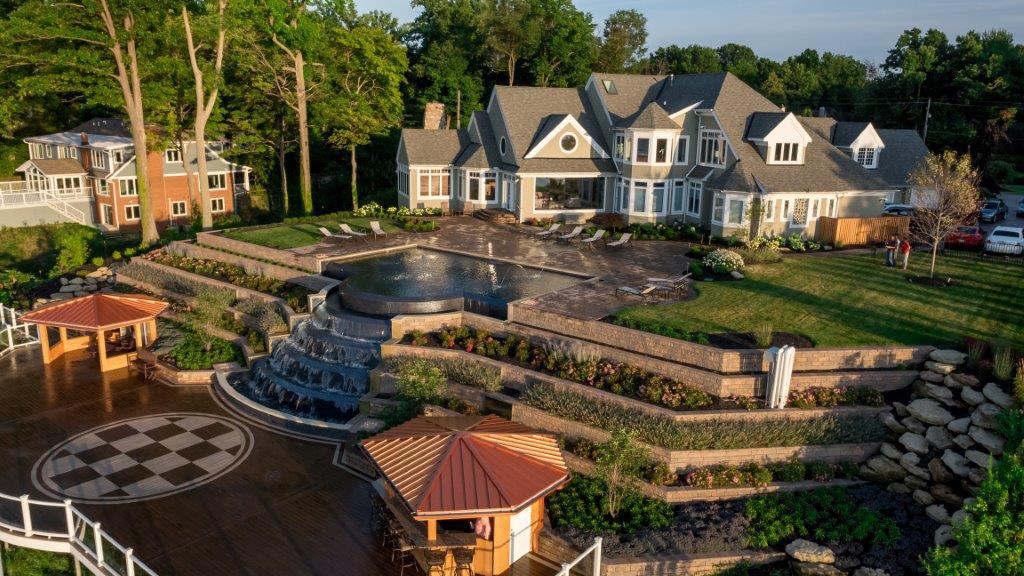 Get landscaping tips delivered right to your inbox.
Why Adding a Covered Patio is a Popular Landscape Choice
What if you could expand and enhance your home's living without the disruption and stress of putting an extension on your house? Good news: It can be done. How? Adding a covered patio.
In comparison to their uncovered counterparts, covered patios offer unique benefits, which helps explain their rise in popularity among homeowners.
Reasons Why Adding a Covered Patio Is a Great Choice
Benefit #1: The Ability to Enjoy Nature Year-Round
Don't let bad weather rain on your parade (or party). When rain showers hit in the spring and summer months — the wettest seasons in Ohio — or there's a thunderstorm that hits in the fall, you'll have a covered patio to hide out beneath. That means no more rush to grab food, drinks and belongings when you feel those first round of rain drops on your face.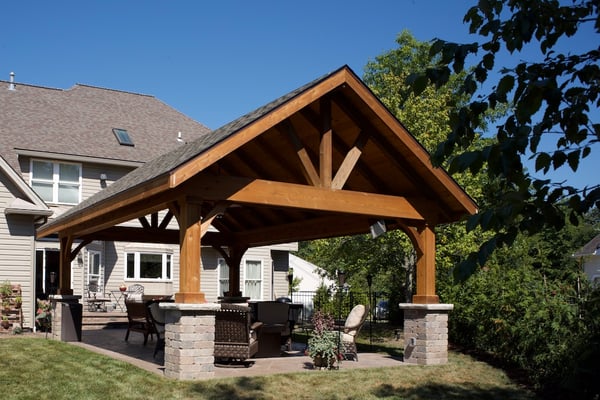 Source: Green Impressions
Rain and thunderstorms aren't the only conditions that a covered patio offers protection from. They also help you beat the heat on those humid summer afternoons. Whether you're hosting a barbecue or simply socializing with family and friends, a little shade does a whole lot for comfort.
Pro tip: While on the topic of comfort — and with the idea of a covered patio being part of your home's living area — decorate the two in the same manner. Comfortable outdoor seating paired with plush pillows and blankets is sure to make for a cozy spot guests won't soon want to leave.
Benefit #2: The Increase to Your Home's Value
In a 2018 home design trends survey from the American Institute of Architects, outdoor living areas (such as covered patios) ranked as the No. 1 "special room" among consumers. What's more, it held that ranking for the past seven consecutive years before.
The results from this survey lend themselves to the idea that potential home buyers are willing to pay more for a home with a covered patio. And there's further research that backs this up. The 2018 Cost vs. Value comparison from Remodeling Magazine reports that patios in Northeast Ohio deliver an ROI of 47.6% — and when you consider the extended use of a covered patio, that return on investment is likely to increase.
Source: Green Impressions
One way to think about this is in the context of the combined value of a patio and a pergola. Collectively, these two sought-after landscape features will pique the interest of consumers when you go to sell and serve as a point of leverage in the buying process. They're also a sign that you as the homeowner care about the property, which can be quite beneficial in a larger sense.
Benefit #3: The Energy Savings (and Subsequent Cost Savings)
While the convenience of a covered patio attached to your house can't be overstated, the benefits of this patio style also come in the form of energy efficiencies. When harsh summer rays are in full season, an attached covered patio functions as a shield that blocks out the heat and helps keep the inside of your home cooler.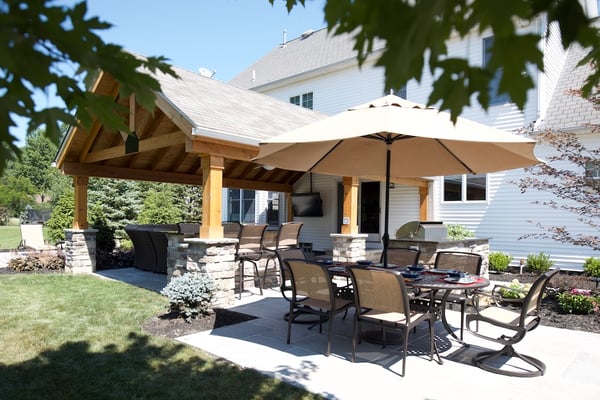 Source: Green Impressions
The ability to leave your thermostat a few degrees cooler translates not only into cost savings but also a more sustainable environment that is attractive to prospective buyers. Case in point: In 2020, the National Home Builders Association (NAHB) surveyed 3,000 homeowners and found that the average buyer was willing to pay as much as $9,292 more upfront for a home that would help them save $1,000 on utility costs.
Bonus: Depending on how your patio is situated, an attached outdoor living space could even help prevent some of your indoor furniture and other materials from fading in color over time.
Benefit #4: The Added Privacy for Your Patio Area
One of the biggest benefits of owning a home is the privacy it provides. While a covered patio innately lends itself to expanding this feel — combining overhead protection with the openness of the outdoors — the structure can also help create a barrier between neighboring houses or unwanted views. The addition of drapes or curtains along the sides of the pergola help expand upon this benefit, while also further drowning out the sounds of traffic and other nearby noise.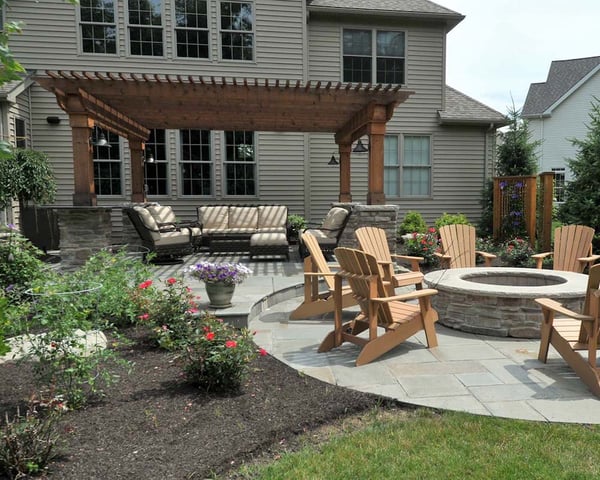 Source: Green Impressions
Adding a Covered Patio: Where to Start
The first step in adding a covered patio to your Northeast Ohio backyard is the foundation. At Green Impressions, we recommend patio pavers by Unilock for their unique qualities, such as:
Design freedom that lets you pair your patio with your home's architecture or theme
High performance and advanced durability, even under the harshest of conditions
Slip-resistant design options for enhanced safety year-round
A covered patio investment comes with huge rewards! Request a free consultation so our team can help you include a covered outdoor patio as part of a dynamic, beautiful landscape design.