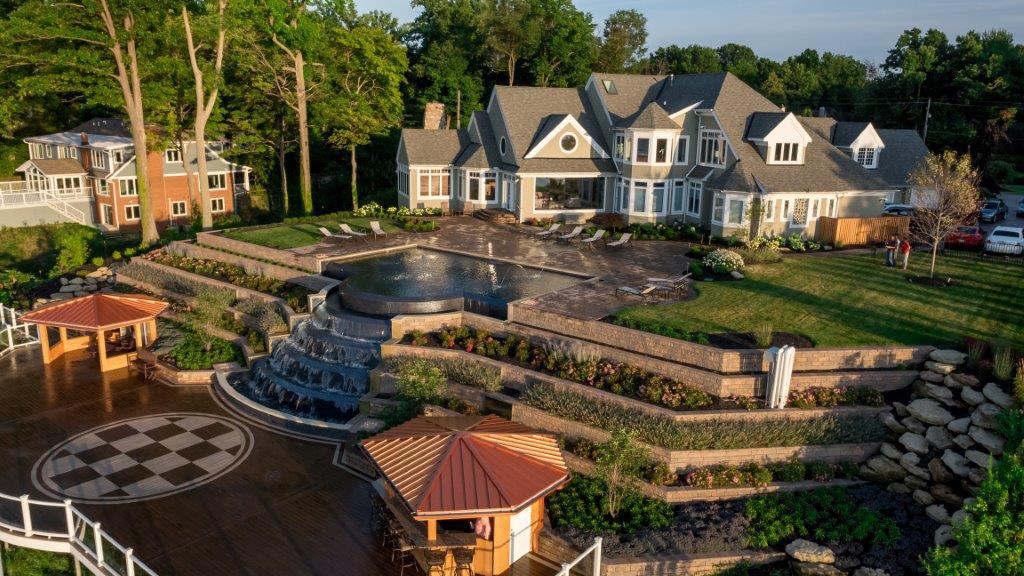 Get landscaping tips delivered right to your inbox.
How Much Does a Trex Deck Cost?
If you've decided to enhance your outdoor space with a deck or patio, you may have heard about Trex decks. Your next questions are probably, "How much does a Trex deck cost?" and "Is it worth it?" If so, you're in the right place!
We understand this is a big decision. After all, adding an outdoor deck or patio increases the value of your home. Let's explore Trex decking in detail – including price – as well as alternative options to consider.
What Is Trex Decking?
Trex decking is a type of composite decking made of sawdust and high-quality synthetic polymers, resulting in a durable, low maintenance option for decks and patios. It appeals to customers who love the look of wood but want to avoid the drawbacks, which we'll discuss below.
So, what's the catch?
Unfortunately, the use of premium materials often comes with a premium price tag. Trex decking is no exception.
At the same time, the installation process for Trex decks is more involved compared to laying a paver patio, adding to the overall cost.
Due to the complexity, Trex decking is not the most DIY-friendly option. Even if you already have the right tools, you'll need to install the framework, secure the deck boards and take additional steps, such as railing installation.
How Much Does a Trex Deck Cost?
The cost of Trex decking depends on a few different factors, such as the installation requirements and any additional desired features or accessories. The size and complexity of the deck project will also naturally impact overall cost.
On average, the price for Trex decking ranges from $8 to $20 per square foot for materials alone, whereas other composite decking materials cost up to $15. This estimate may not include the cost of additional items such as railing systems, substructure materials, fasteners and other accessories.
It's important to note that installation costs are not typically included in the material cost. The labor cost for installing Trex decking will depend on factors such as the deck size, complexity of the design, local labor rates and the installer's experience.
From a total cost of ownership standpoint, Trex is low maintenance and doesn't require staining, sealing or painting. This translates into fewer ongoing maintenance expenses and less of a time investment.
Additionally, the durability and longevity of Trex decking can result in savings over time by avoiding the costs associated with repairs, replacements and regular maintenance that traditional wood decking requires.
But is there a way to have it all at a lower cost? Let's take a closer look at additional options on the table.
Alternatives to Trex Decking
There are three popular alternatives to Trex decking, each with its own price range, benefits and considerations:
Alternative #1: Composite Wood Decking
Trex is a higher-cost form of composite decking. But if you're set on composite wood decking and want to find a more cost-effective alternative, there are options.
How Much Does Composite Wood Decking Cost?
The cost of composite wood decking varies based on factors such as brand, quality and size. On average, composite wood decking ranges from $10 to $15 per square foot.
Benefits of Composite Wood Decking
Composite wood decking requires minimal maintenance; as mentioned above, this eliminates the need for staining, sealing or painting. It is also resistant to rot, decay and insect damage. It comes in a variety of colors while still giving the aesthetic effect of real wood and making use of recycled materials, which makes it an eco-friendly option.
Challenges with Composite Wood Decking
The higher upfront cost of composite wood decking versus standard wood decking can send some homeowners running for the hills.
If you live in a hot climate or experience hot summers, composite wood decking can retain more heat than other materials, making footwear necessary for many people.
It can also fade over time due to strong sun exposure, which is another reason those in warmer or sunnier regions may opt for something else.
Alternative #2: Natural Wood Decking
As you might expect, natural wood decking is made from real wood, with cedar, redwood or tropical hardwoods being among the most popular for decks and patios.
What Is the Cost of Natural Wood Decking?
The cost depends on the wood's type, grade and availability. On average, natural wood decking can range from $6 to $8 per square foot for the types of wood most commonly used in decking.
Benefits of Natural Wood Decking
In a world increasingly made of plastic, many consumers love the unique grain patterns and warm aesthetic only natural wood decking can offer. Since wood decking can be stained, painted or even left untreated, the design possibilities are numerous.
Wood decking can be a sustainable option, depending on how and where it is sourced, and repairs are fairly easy.
Challenges with Natural Wood Decking
Natural wood decking often requires regular staining, sealing or even refinishing to maintain its appearance while also protecting it from the elements.
It is also susceptible to rot and insect damage and has a shorter lifespan compared to composite or paver alternatives.
Alternative #3: Paver Patios
Consisting of interlocking concrete or stone, paver patios are an aesthetically-pleasing, versatile and cost-effective alternative to Trex decking.
Pavers are a more durable alternative to wood decking while still offering the look and feel of natural materials. Some are even made of stone or clay.
How Much Do Paver Patios Cost?
The cost of a paver patio can vary depending on factors such as paver material, size, design complexity and site preparation. The range is wide – from $3 to $30 per square foot – allowing you to customize your patio based on your budget and taste in design.
Benefits of Paver Patios
Paver patios offer a wide range of design possibilities with various shapes, colors and patterns available. They are also durable, low maintenance and DIY-friendly.
Some brands like Unilock offer a wide range of paver options, including natural stone, concrete and permeable pavers, each with unique benefits and price points.
A quality paver will be slip-resistant and easy to clean, and it will maintain its color as well as its structural integrity.
Challenges with Patio Pavers
Patio pavers have limited load-bearing capacity, so they may not be suited for heavy structures like outdoor kitchens or hot tubs without proper reinforcement.
While DIY installation is possible, professional installation is recommended for complex designs or challenging terrain.
Know Your Options When It Comes to Your Deck or Patio
There's certainly a time and place for Trex decking in landscapes — whether it's a preference of aesthetics or based on the conditions of the area in which you live. The goal of this post is not to sway you from Trex decking, but rather inform you of the other routes you can take. We believe that the best decision is the most informed one!
While we have experience installing various types of decking and patios, we are also strong advocates of pavers, specifically Unilock pavers. These high-quality pavers are renowned for their:
Resistance to wear and tear, with the ability to withstand freeze-thaw cycles (including our harsh winters here in Northeast Ohio!)

Ability to maintain color and structural integrity for years

Endless design options that range from old-world charm to a rustic look
Whichever alternative you choose, Green Impressions is here to help bring your vision to life. Ready to take the first step toward creating a stunning outdoor retreat? Request your free consultation!