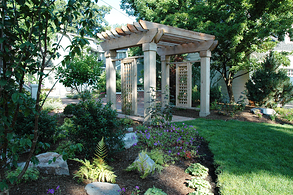 Without a little late-fall attention, your outdoor living spaces begin to look a little shabby. Even worse, you could inadvertently damage your carefully planned landscaping if you neglect it at this time of year. Winterizing your outdoor living spaces keeps them looking good through the cold winter months, maintains them, and prepares them for spring.
If you follow these tips, your outdoor living spaces will look great all winter long.
1. Protect your wood structures. Winter is hard on wood, but you can prevent moisture and mildew damage with a little preventative maintenance. Move all planters and furniture off your wood deck, and sweep it. Removing dead leaves and debris will keep bacteria and rotting material from damaging your wood. Once the wood is cleared and cleaned, apply a water-tight sealer to prevent swelling and moisture damage through the winter months.
2. Prepare your lawn. If you still have fallen leaves scattered across your yard, remove them. You can do this by raking and bagging the leaves or by mulching them with your lawn mower. Fortify your lawn for the winter by applying a winter-specific fertilizer. When the fall has been extra dry, continue to water until frost is imminent. Ample moisture in your lawn will prevent snow mold and blight pathogens.
3. Winterize your outdoor plumbing. The last thing you want to deal with is frozen and burst pipes in your sprinkler system, water features, swimming pool, and outdoor kitchen. Flush out the water, remove hoses and drains, and add winterizing chemicals to pools and water features you don't intend on completely draining. Make notes of any cracks or problems you notice with your outdoor water features, and take care of them as soon as possible.
4. Take care of flowering plants. Prune your perennials that are safe for fall pruning, and plant a few spring-flowering bulbs. Add a fresh layer of mulch over the top of your newly planted bulbs to protect them from frost and temperature swings during the winter. If you have any delicate bulbs (dahlias, caladium, canna, elephant ear, gladiolus, and some types of begonias), dig them up and store them in a cool, dry place where they won't be susceptible to frost. A bucket in your garage containing peat moss works well for bulb storage. If you have any remaining annuals from this year, remove them now. They probably don't look good anymore, and if you let the dead plants remain where they are, they can harbor insects and diseases through the winter.
5. Tackle any weeds. You'll have a leg up on your work in the spring if you tackle any weeds you see now. In addition, you'll see more spring blooms if your early flowering plants don't have to compete with weeds for precious early resources. Pull weeds by hand, or spray them so they don't get a chance to develop roots between freezes.
By taking care of these winterizing jobs now, your outdoor living space will look good all winter long and be ready for spring. For help with any of these winterizing tasks, give us a call. We can answer any questions you have or set up a time to come take care of the work for you.
Author: Joe Schill