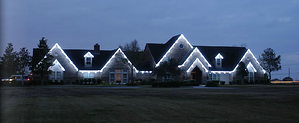 One of the biggest changes in holiday lighting over the last few years is the emergence of LED lights. LED lights look different from incandescent lights, and people have different opinions about their looks, but the differences are much deeper than they seem. Read on to learn about the differences.
Incandescent Lights
Warm Light. Incandescent lights have that warm glow most people associate with the holidays. Humans are drawn to warm light, the light associated with fire and warmth, and most people tend to prefer incandescent light for this reason. It's a softer light, and it creates a more traditional holiday lighting display than the new, cooler LED lights.
Easy to Maintain. Incandescent holiday lighting technology has been around a long time, and manufacturers have figured out how to make them easy to maintain. Burned out light bulbs and other small maintenance jobs are easy to solve with incandescent lights.
Best for smaller jobs. Although they're lovely and easy to maintain, incandescent lights are best for smaller jobs that don't require a lot of extension cords or complicated design features. That said, it's possible to create an elaborate holiday display with incandescent lights; it just may take some additional creativity.
LED Lights
Cooler Light. You can still tell the difference at a glance between warm incandescent lights and cool LED lights. Many people dislike the cool light produced by LED bulbs. That's slowly changing, however, as manufacturers are learning to mimic the warmer incandescent glow in their LED lights. It's also possible to get a warmer appearance from LED lights by sticking with warmer colors like orange and green instead of white and blue.
Fewer Cords. Designed and produced with today's elaborate holiday displays in mind, LED lights are easier to work with. Because they're so energy efficient, they require less electricity, and you don't have to worry about so many cords. This is especially helpful if your home and landscaping make it difficult to hide extension cords.
Energy Savings. If you've ever been shocked by your December electric bill, you will appreciate the energy savings LED lights provide. According to NSTAR, LED holiday lights use 90% less energy than incandescent lights. Your energy savings can really add up when you use LED lights exclusively.
When you look at the characteristics of the two types of holiday lights, you see that there isn't a clear winner or loser, and that's good. That means that we have two different kinds of lights to use for different situations and for different types of displays. You may already have a preference for one type of light over another, and that's great. We can design your holiday light display around your preferences. If you don't have a preference, we can talk about what kind of display you would like and choose the lights that seem most logical for your custom design. Sometimes, a combination of both LED and incandescent lights can create a unique look.
Whichever type of holiday lights you decide on, we have plenty of high-quality options to integrate into your holiday lighting display. We choose only the highest quality products, so you can re-use them year after year, and we store them for you in our climate-controlled storage facility. All of the products we use will last a long time, saving you money on holiday decorations for years to come.
Holiday lighting manufacturers continue to produce new and innovative products, and we keep up with all of the latest products and technology. We want to create the perfect holiday lighting display for you and your home.
Author: Joe Schill