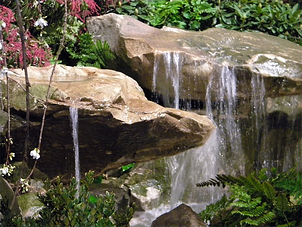 For Immediate Release 1/10/13 --- Cleveland Home and Garden Show Preview ---Description: The Great Big Home and Garden Show offers Cleveland homeowners an amazing array of ideas, tips, and displays.
Cleveland, Ohio -- The Great Big Home and Garden Show will run from Saturday, February 2nd to Sunday, February 10th at Cleveland's IX Center. This expo presented by Time Warner Cable offers inspiration, education, and motivation to help homeowners with home improvement projects. In addition to more than 600 exhibitors on the main floor, visitors can tour 19 feature gardens, listen to seminars on the main stage, walk through the Idea Home, and tour the Home Builders Association Pavilion, which showcases a 53-foot-long interactive trailer. Leading full-service landscaping firm Green Impressions will exhibit at Showcase 10 in the Booth Garden.
The participating exhibitors are divided into the following categories:
Construction Remodeling & Renovation
In this area of the exhibit hall, visitors can learn about concrete, glass blocks, architectural woodworking, kitchen and bath remodeling, and much more. Experts in these techniques and more are on hand to discuss the latest trends and options available to Cleveland residents.
Arts & Crafts
The arts & crafts section is perfect for visitors interested in purchasing or learning about jewelry design, Native American art, and herbal products. A walk through this part of the exhibit hall offers a chance to meet local artists and artisans who are available to discuss their work.
Home Products, Services, Decor & Lifestyle
This area offers tips, services, and ideas about furniture, photography, woodwork, linens, cookware, and even musical instruments. Visitors to the expo will leave this area with new ideas about how to improve the atmosphere of their homes.
Lawn, Garden & Outdoor
Those interested in learning about patio rooms, pools, hardscapes, fences, and landscaping will enjoy visiting the Lawn, Garden & Outdoor area of the exhibit hall. Local landscaping firm Green Impressions will be available to discuss plant selection, hardscaping, in-ground pools, snow removal, and holiday lighting.
Idea Home
Once visitors have finished walking through the exhibit hall, they can tour the Idea Home, which combines practical and affordable design with today's most advanced energy technology. Designed by Creative Construction Solutions, the Craftsman-style Idea Home features 2,400 square feet of thoughtful planning. The ranch-style home includes three bedrooms, 3 1/2 bathrooms, a den, a laundry room, a great-room-style kitchen/dining/family room, and three outdoor rooms. The home's green technologies include triple-pane windows, thicker walls for insulation, and recycled granite walkways. The home's security, lighting, climate, and access can all be controlled remotely or in-house via an iPad.
Gardens
Expo visitors who are ready for spring will enjoy spending time in the nineteen showcase gardens inspired by great American landmarks located in the South Hall. Last season these spectacular gardens are inspired by classic television shows like The Twilight Zone, The Beverly Hillbillies, The Flintstones, and Northern Exposure. Home gardeners will glean ideas for everything from paved walkways and clipped hedges to perennials and cedar pergolas. Green Impressions sponsors an 1,800-square-foot garden with the theme showcasing the "Shenandoah Valley", where visitors will learn about hardscape patios, sculpted water features, and outdoor living areas that feature fireplaces, bars, and grills.
For more information about The Great Big Home and Garden Show, visit www.greatbighomeandgarden.com/GBHG/EventsHome.aspx. To learn more about Green Impressions, see www.greenimpressionslandscape.com.
Green Impressions is a full-service landscape company owned and operated by Joseph H. Schill. A Cleveland-based business for more than twenty years, Green Impressions creates optimal outdoor living spaces designed to connect home and outdoors with friends.
Contact Information:
Joseph H. Schill
Green Impressions, LLC
842 Abbe Road
Sheffield Village, OH 44054
Author: Joe Schill