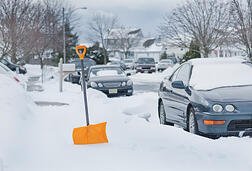 Snow is on its way to Ohio. Are you ready? If you have better things to do than bundle up and shovel your driveway in the dark before work, you need professional snow removal. Selecting a northern Ohio snow plowing company doesn't have to be difficult. Green Impressions has you covered. We're one of the region's largest residential snowplowing and de-icing contractors. We're fully licensed, insured, and bonded, and we're ready to tackle the toughest winter storms.
But you don't have to take our word for it. When looking for a northern Ohio snow plowing company, do your homework and look for the following standards.
1. Unlimited Pushes. Will your snow removal company stop coming if it's a long, rough winter. No matter how many times it snows, Green Impressions will be there to remove your snow. Our fleet of premium snow removal equipment is always at the ready, and our highly trained personnel are prepared to ensure great service whether it's a mild winter or one of the worst.
2. 2-inch Threshold. When snow accumulates more than 2-inches, we'll be there. A storm doesn't have to dump a foot or two of snow for us to bring out our plows. We know that just 2 inches of snow can cause slippery and dangerous conditions, so we stick to our 2-inch threshold and ensure the safety of our customers.
3. Driveway Markers. We mark our customers' driveways with stakes for extra safety. These reflective stakes ensure that we clear the full width of your driveway without straying onto your landscape. Since we often remove snow in the dark, this helps us to do a thorough job without causing any harm to your grass or landscaping.
4. Spring Repairs. In the event that our snow removal equipment does damage your turf, we'll send out our professional landscaping crew in the spring to restore your grass at no charge. We take full responsibility for our work and ensure that your landscaping looks as good as new after the winter season is over.
5. Premium Scheduling Options. What works best for your snow plowing company may not necessarily work best for you. Because we have a full fleet of snow removal equipment, we're able to work with individual customers and offer premium scheduling options. To discuss these scheduling options, contact us and find out what's available.
We adhere to the above standards so you can enjoy winter comfortably. Instead of struggling to get the driveway shoveled and still get to work on time, let our professionals take care of the job for you. We'll get it done right, stay out of your way, and help you get to work on time.
Green Impressions is your northern Ohio snow plowing company. Our years of experience and professional reputation ensure that your driveway will be prepared for winter, whatever it brings. For more information about snow removal, or to discuss any of your other landscaping needs, give us a call. We look forward to talking with you.
Author: Joe Schill